Login
Log in if you have an account
Dont have an account? Register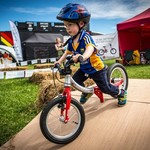 Balance Bikes
Let them take their first steps on the path of learning to cycle. Perfect for ages 2-5.
Balance Bikes
Balance Bikes are the ideal way to get kids cycling these days. At about 2 years old they can wobble along pushing a small balance bike and begin to learn the skills needed to control a bicycle.
As their little legs grow they will soon be pushing off down the pavement and you'll need to run to keep up with them!
Our LittleBig Balance bikes are a innovative Irish made product which starts life as a Balance Bike, then when they are ready the pedals are bolted on, making it a pedal bike. Not only are the pedals bolted on but the size is adjusted to grow with them.  This means its like 3 bikes in one as they can do children from 2-6 years old!