Login
Log in if you have an account
Dont have an account? Register
Why Feel Good?
Why choose us as the ones to buy your next bike from? What makes us so special? To put it very simply - because we are cyclists and mountain bikers!
This is not just a job for us, it is an obsession and a way of life! We eat, drink and sleep bikes and mountain biking and we would not have it any other way! When we are not in the shop repairing bikes or fulfilling orders for customers, we are on the road in the Feel Good Bicycles van hand delivering bikes all over Ireland.
And on our time off over the weekends or when we are away on holidays, it is extremely likely that we are out testing a new bike or a new trail somewhere. Our mountain bike obsession is very real.
In addition to knowing the tricks of the trade and understanding our customers, here are a few more reasons as to why you should buy from Feel Good Bicycles…
Free Labour on Servicing for 12 months.
If you buy a bike with us that means you avail of 12 months of free labour on any servicing we do to your bike. This means that any issues that may arise within 1 year of buying the bike, we will see to the bike totally free of charge. And no, there is no limit on the amount of servicings you can receive with free labour during this period!
You can book a service with us online here.
Nationwide Delivery.
Yes, we are based in Cavan, but we reach all corners of Ireland. We offer nationwide delivery on certain bikes meaning we will professionally assemble your bike, load it into the Feel Good Bicycles van, and hand deliver it to your door.
Drop us a message today to learn about how you can avail of this delivery service. You can also read about our shipping policy here.
Premium Customer Service.
As we mentioned before, we are obsessed with bikes and pride ourselves on the service we give our customers. There is no problem too small, or an issue too tricky that we cannot tackle. We love a challenge!
But don't just take our word for it, read what our customers have to say about us here.
Happiness Guarantee.
Our number one priority is to ensure our customers are fully satisfied with their new purchase with us. To highlight this, we operate a Feel Good Bicycles 'Happiness Guarantee'. This means that if you are in any way dissatisfied with your purchase you can return it to us anytime within 30 days of purchase.
We can replace the item, give you a full refund, or work out some other arrangement to make sure you are satisfied with your transaction with us.
You can read more about our 'Happiness Guarantee' and returns policy here.
Flexible Finance Plans.
We understand that a bicycle can be a major investment, so we have teamed up with Humm Finance to make sure buying a bike with us is manageable and painless. Humm offers flexible payment plans so you can spread out your payments.
You can read all about Humm Finance and the plans they offer here.
Cycle To Work Scheme.
Feel Good Bicycles proudly participates in the Government's Cycle To Work scheme. This scheme is the most affordable way to purchase a brand new bicycle, and you can save up to 51% on the cost of a new bike with your employer.
You can learn more about the Cycle To Work scheme and how you can sign up here.
Growth Spurt Guarantee.
Buying a bike for your child? We have invented Feel Good Bicycles' "Growth Spurt Guarantee" to assist you when a child grows out of a bike. In short, we will give you trade-in value on your existing bike when you are upgrading your child's bike with us.
You can read all about our Growth Spurt Guarantee here.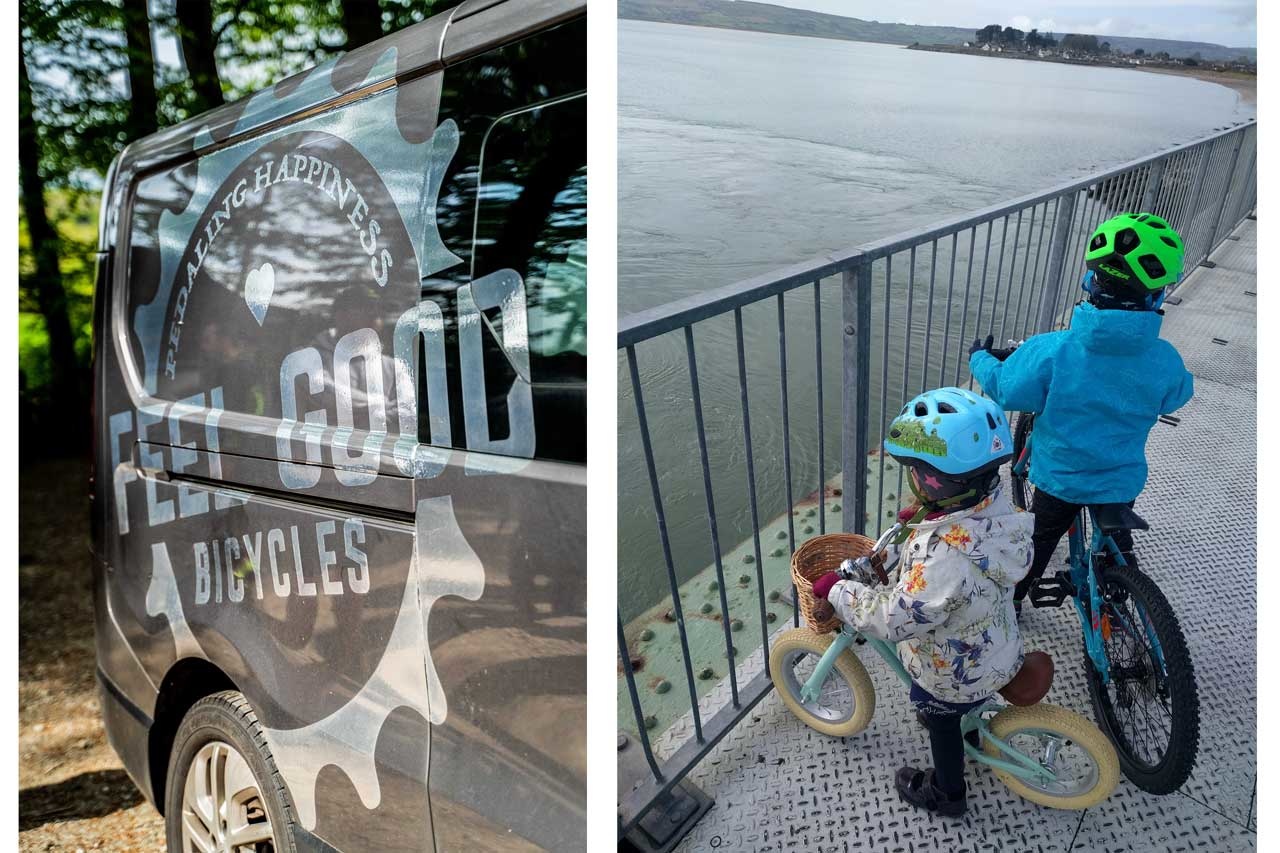 Serving The Cycling Community.
When we are not in the shop, there is a good chance we are out and about doing something else related to the cycling community. We sponsor the Grassroots Enduro MTB series each summer. We volunteer and help steward local road races. And we also help out maintaining our local trails, ensuring they are in top condition for riding.
There would be no cycling community in Ireland without the help of volunteers and sponsors. We help out where we can!